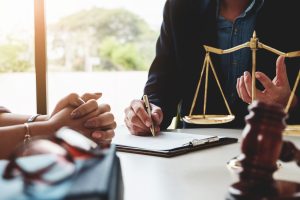 Meet Pamela Bacharach, your top choice of divorce lawyers in Hartford County. It's good to partner with an attorney that can balance empathy and professionalism, and Pamela is the perfect option to defend your case while being a healthy support system. Having someone with experience and credentials to their name is essential for your assurance. Bacharach is prepared to be your voice.

Pamela Bacharach's background in divorce proceedings spans over 30 years of defending clients and fighting for their rights concerning the distribution of assets, including: 
Property  

Gifts 

Inheritance

Income from employment   
Being that there is no formula is Connecticut, trust in Pamela to work through the many factors the courts consider when the court divides assets, such as:
Length of marriage

Causes for the breakdown in marriage

Age

Health

Occupation

Source(s) of income

Vocational skills

Future employability
About Divorce Lawyers in Hartford County
Pamela Bacharach graduated from American University in Washington DC, with high honors in May of 1985. She then went on to earn her juris doctorate from Suffolk University Law School in Boston, Massachusetts in 1988. She then returned to her home state of Connecticut and worked for an insurance defense firm in Hartford Connecticut after a judicial clerkship in Washington DC. During this time worked with insurance defense, civil litigation, insurance coverage, and family law cases. In 1995, became a partner at the firm of Prue, Lavigne, and Bacharach until 2004, when she formed the Bacharach Law Firm LLC.
Admission
Connecticut, Massachusetts, and Washington DC.
Education
American University, B.S. 1985
Suffolk University Law School J.D. 1988
You can learn more about the many services Pamela offers related to divorce proceedings, including parental rights and custody disputes. She will be your voice at every meeting, deposition, and court appearance, and she is backed by a powerful team and she is ready to fight for you.
If you are someone who needs more information about consultation involving divorce in Hartford County, call on Pamela today and learn the options you have. Fill out the form below and get started on your journey to peace of mind.
Proudly serving: Hartford, East Hartford, West Hartford, New Britain, Simsbury, Bristol, Glastonbury, Rocky Hill, Newington, Avon, Manchester, Windsor Locks, Southington, Enfield, Windsor, Wethersfield, South Windsor, Bloomfield, Granby, Barkhamstead