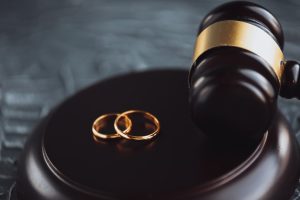 We assist clients who seek divorce in Eastern Connecticut in all aspects of separation, from the simplest case to the extremely complex matters involving the issues of custody, child support, visitation, alimony, property division, restraining orders, as well as post judgment modifications.
Going through a divorce is difficult no matter what the circumstances. Attorney Bacharach has traveled the same road as many of the hundreds of clients she has successfully represented over the past 32 years. As a prior single mother of two young children, she knows the stresses and concerns involved in this emotional time. As compassionate as Pam Bacharach is when you are working together on your case, she is equally as tough when it comes to fighting for you in court.
How are debts and assets divided in Connecticut?
In Connecticut, there are no set formulas for the division of property. All assets, whether a gift, inheritance, or income from employment, are considered a marital asset. Connecticut is considered an equitable distribution state, which means the marital assets are divided in a manner which the courts determine is equitable to the parties. Certain factors the courts consider when the court divides assets, are length of marriage, causes for the breakdown in marriage, the age, health, occupation, source(s) of income, vocational skills, and future employability. When dividing a debt, the court considers who accrued the debt, when and for what reason.
What is alimony and how is it determined?
There is no specific formula when determining the amount of alimony or the length of time alimony shall be paid, but generally the longer the marriage, the longer the term of alimony. Many of the factors the court considers when dividing the assets are the same factors the court considers when determining alimony. There is a statute in Connecticut that directs the court, when determining alimony, to consider the length of the marriage, the difference in income of the parties, the education of the parties, health and station of the parties, the employability of the parties and other sources of income. The analysis when determining alimony also considers the needs of the party requesting alimony and the income of the spouse who has asked for alimony.
If you are someone who needs more information about consultation involving divorce in Eastern Connecticut, call on Pamela today to learn the options you have and what the decision will mean for you and your family going forward.