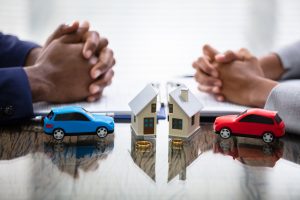 Attorney Pamela Bacharach and her team are the answer to your need for divorce lawyers in Vernon, CT. Our office is located a short distance away in Willimantic, and we have represented hundreds of divorce clients throughout Eastern Connecticut. Pamela is divorced and a mother of two herself…she fully appreciates the stress and worries you're going through at this time in your life. She will listen to your side of the story with empathy, and she will also zealously represent your interests in the case.
Choose A Vernon Divorce Lawyer With Experience
In Connecticut, divorce laws require that your attorney be effective in arguing your case. Currently, Connecticut has no laws in place to handle division of property. All of the assets you and your spouse have acquired during the marriage are considered "marital assets". With Connecticut being an "equitable distribution" state, this means that the courts determine how your house, cars, and belongings are divided. In addition, there are no laws in place regarding child support, custody, and alimony, which means these matters are also decided by the court.
Divorce lawyers in Vernon and in Connecticut need the experience to understand the system and how court decisions are made, and how to present your side of the story. Pamela Bacharach has dealt with clients in most all matters of divorce proceedings, including alimony, property division, restraining orders and post judgement modifications. She will be prepared to fight for your legal rights and knows how to present your case effectively.
Pamela will meet with you personally to go over your divorce proceedings…the same attorney you meet with in the office is the one who will represent you in the courtroom. She is ready to be your legal voice throughout this stressful time.
Get started moving past this difficult chapter in your life. Reach out to our office today or use the form below to request a consultation, and take the first step towards moving on to a brighter future.