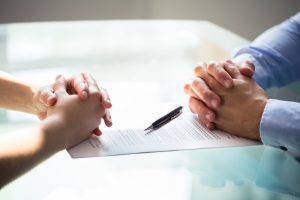 Start your search divorce lawyers in Middlesex County here and end it with Pamela Bacharach. Bacharach Law Firm, LLC provides legal services in the area of family law, including couples who wish to divorce.
Bacharach is the attorney you can lean on during these challenging times. Her personal, proactive approach to being your advocate has made her among the top divorce lawyers in the area. She will be your voice at every meeting, deposition, and court appearance. Backed by a powerful team, she is ready to fight for you.
About Divorce Lawyers in Middlesex County
She's Educated and Experience
Pamela Bacharach graduated from American University in Washington DC, in May of 1985. She then received her juris doctorate from Suffolk University Law School in Boston Massachusetts in 1988. She worked as a judicial clerk in Washington DC, until returning to her home state of Connecticut for an insurance defense firm in Hartford Connecticut. There she primarily worked with insurance defense, civil litigation, insurance coverage and family law cases. Desiring to fight for plaintiff rights and continuing to practice in the areas of family and civil law, she joined a local firm and in 1995, and in 2004 Pamela S. Bacharach formed the Bacharach Law Firm LLC.
She's Involved with Her Community
Bacharach is a founding member of the Connecticut Trial Lawyers' Association Women's Law Caucus and active in the Connecticut Trial Lawyers' Association, and has lectured at Connecticut Trial Lawyers Association seminars for lawyers and staff on various topics. 

Bacharach was also a founding member of the Woman and Girls Community Foundation of Eastern Connecticut.

Bacharach has also been an active member of the Connecticut Bar Association for years.

She currently holds a seat in the House of Delegates for the Connecticut Bar Association. 

She has also been an active member of American Association for Justice.
She's Known for Publications 
Suffolk Transnational Law Journal, Volume XI Spring 1988, Number 2

Maritime Law – Ship Mortgages Act – Equitable Subrogation of Preferred Ship Mortgages, Custom Fuel Services, Inc. v. Lonthas Industries, Inc., 805 F.2d 561 (5th Cir. 1986).
Effectively Managing A Solo Practice, copyright 2015 Thompson Reuters/Aspatore; Key Concerns, Benefits and Strategies For Solo Practitioners, by Pamela S. Bacharach, Owner, Bacharach Law Firm LLC.
New prospective clients looking for divorce lawyers in New London County can reach her by filling the form below. We hope to hear from you soon.